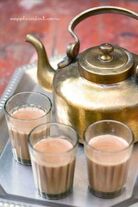 Chai is a flavored tea beverage made by brewing black tea with a mixture of aromatic Indian spices, and herbs. Originating in India, the beverage has gained worldwide popularity and very frequently appears in the episodes and movies of The Adventures of Motu Patlu. Chaiwala is notably known to always brew and make chai and Samosas for Motu and Patlu and happily does it whenever he can.
`
Ad blocker interference detected!
Wikia is a free-to-use site that makes money from advertising. We have a modified experience for viewers using ad blockers

Wikia is not accessible if you've made further modifications. Remove the custom ad blocker rule(s) and the page will load as expected.