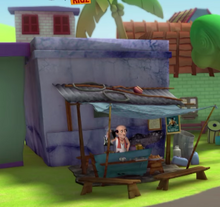 This is the shop of Chaiwala.It has 2-3 benches and has a kitchen.
Description
Edit
Over the kitchen is a white and lilac tent.It also has a stove where Chaiwala cooks samosas and makes chai. Motu Patlu and their gang usually gathers here.Chaiwala cares for his shop more than anything else.It also has cutlery and glass mugs.It is near Motu Patlu's house.
Ad blocker interference detected!
Wikia is a free-to-use site that makes money from advertising. We have a modified experience for viewers using ad blockers

Wikia is not accessible if you've made further modifications. Remove the custom ad blocker rule(s) and the page will load as expected.