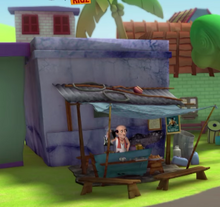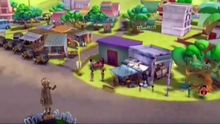 This is the shop of Chaiwala. It has 2 benches and has a kitchen.
Description
Over the kitchen is a white and blue tent.It also has a stove where Chaiwala cooks samosas and makes Chai. He uses a Furfuri Nagar Gas Cylinder. Motu, Patlu and their gang usually gathers here. There is a water tank and some cans of Kerosene. Chaiwala cares for his shop more than anything else.It also has cutlery and glass mugs, as well as newspapers which the guests often read. A dustbin is kept to throw waste. There is a poster of Chamki Detergent Soap advertising the soap. Sometimes a television is also present.There is a calendar of 2013 . It is next to the Sabziwali's shop and near Motu Patlu's house.
Food Items
There are numerous types of food items available in his shop. The fast food available in his shop are samosas ,pakodas and Chai, as well as Milk. In one episode motu is seen buying 2 bottles milk from Chaiwala. It is written on his board that chole masala, matar paneer , dal & aloo parathe are available . He has sweets such as sandesh, pedas, rasogulla, chaklis, barfis,ladoo & gulab jamun. In the episode "Gulabi Haati " he offered gulab jamuns to Appu. Non-veg dishes are egg farji, egg chinese & egg omelet.