Chotu is a child who is about 5-8 years old.Sometimes his mother drops him to motu patlu.He likes motu patlu and called them maamoo(uncle)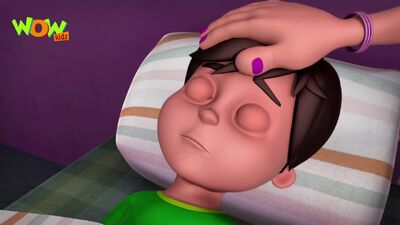 Appearance
Chotu is a small Indian boy who usually wears a green shirt and has brown hair. He is quite short compared to the other characters, however, this is because of his young age.
Trivia
Chotu is featured in a Nickolodeon Special, Nick India Dab. In that video, he is the "teacher" of six students, Motu, Patlu, Gattu, Battu, Ninja, and Kenichi. Unlike traditional teachers, Chotu doesn't teach them how to do mathematics, science, history, etc., but he teaches them how to dab. In the end of the video, all the the characters end up dabbing like Chotu.
Ad blocker interference detected!
Wikia is a free-to-use site that makes money from advertising. We have a modified experience for viewers using ad blockers

Wikia is not accessible if you've made further modifications. Remove the custom ad blocker rule(s) and the page will load as expected.