Commissioner Bubblegum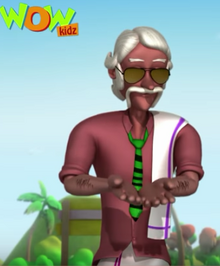 Appearance
Bubblegum resembles Chingum almost exactly. One difference between them is that Bubblegum's hair and moustache are white. Another difference is Bubblegum's body has slightly more build than Chingum's
Personality
He is a caring father, though he can scold his son sometimes and also a little clumsy as he is be-fooled by Jon's tricks that puts Motu, Patlu and Chingum into trouble.
Abilities
He has the authority of a commissioner and also has a gun.
Weaknesses
He can be be-fooled sometimes.
Dialogues
'Stop! Tume India Ki Kasam, Mother India Ki Kasam!''Stop! On the behalf of India, Mother India!)
"Chingama'(his chosen nickname for Chingum)
Gallery
Ad blocker interference detected!
Wikia is a free-to-use site that makes money from advertising. We have a modified experience for viewers using ad blockers

Wikia is not accessible if you've made further modifications. Remove the custom ad blocker rule(s) and the page will load as expected.