Welcome to the Wiki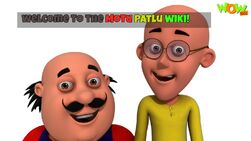 Motu Patlu is a comedy CGI animated television series airing on Nickelodeon. It is adapted from the classic comic strip on Lot Pot. It was premiered on 16 October 2012, beginning with the episode "John Banega Don". It focuses on two friends, Motu and Patlu, living in the fictional city Furfuri Nagar.
The director is Ronojoy Chakraborty and the theme music composer is Sandesh Shandilya. The producers are Deepa Sahi and Anish JS Mehta. The theme song "Motu Aur Patlu Ki Jodi" is sung by Sukhwinder Singh. It is one of the most popular kids shows in India.
The founder and admins of this wiki are currently not active. If you need help contact the admins of FANDOM or ask L.o.d.7 (who also uses the accounts King.Armaan.17 and Kashirin.kakato) and Labrain13, and who is the most active member on this wiki.
All pictures of this wiki are not created by us, we just took them by screenshots. They still belong to their respective owners.
Policies
If you have even the slightest information to show, Be Bold! Don't Be Shy! Hit the edit button and start editing! Thank you for your contributions! We need your help!
Please do NOT vandalize this wiki. Vandalism will result in three warnings, after which you will be reported to the VSTF, a wiki which blocks vandals.
Vandalism
Note: As of 2017 and 2018, this wiki has been vandalised by several users who have created articles of pure vandalism (which are not about Motu Patlu) as well as vandalised popular articles such as Dr. Jhatka and Jon, and even this main page. Much of the vandalism has been removed by the community here but as we are moderators, administrators or bureaucrats (and none of this wiki are active), he cannot delete the vandalism pages. He has however, redirected and has warned the users who committed vandalism. Kindly help improve this wiki and remove vandalism wherever you find it.
We are aware that this show has reached a massive popularity on the Internet, and that it has spawned countless memes and jokes, but false information, such as power levels, Stands or Stand Users, is not allowed.
By King.Armaan.17, aka L.o.d.7 and other editors of this wiki's community.