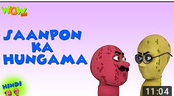 Saanpon Ka Hungama is an episode of The Adventures of Motu Patlu that was released on Oct 2, 2017 by the YouTube channel WowKidz.
Short synopsis
Warning!!! The information below contains spoilers for the episode 
Jon the Don uses an artificial snake to scare the people of Furfuri Nagar and robs them. In order to catch that snake, Dr. Jhatka turns Motu and Patlu into real snakes. Motu and Patlu then visit the jungle, to find out which snake is doing such robberies. But their plan gets backfires on them only, all the snakes of the jungle are after them.